Rock Creek Cabins
Rock Creek Montana
As you enter the Rock Creek Valley, you realize quickly that this is a very special place. Here you'll see bighorn sheep, whitetail and mule deer, black bear, eagles, and the occasional moose.
Our Cabins
We offer two beautiful and well-kept cabins that are located near the Sawmill Creek Fishing Access located near the 8-mile marker on Rock Creek Road.
"Love Rock Creek!"
Our second time spending time at Rock Creek cabins. The coziness of the cabin is felt the moment you walk through the door. It is beautifully decorated, clean and well taken care of. The kitchen has every amenity one could want. The beds are very comfortable and lots of towels in the bath. The property is beautiful. It is quite and a wonderful location to spend some time.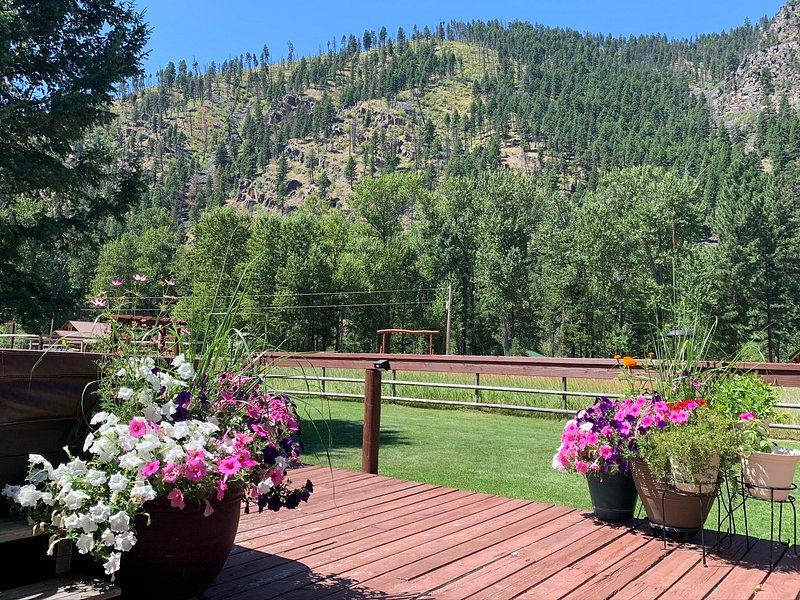 Absolutely Perfect!
Absolutely gorgeous property and surroundings! Everything you could think of has been included. Excellent kitchen, bathroom, bedrooms and living area. All of the quality cookware I could want or need. Beautiful mountain views, immaculate grounds with a garden. Super clean hot tub. Accented with flowers and solar lights. Quick walk to the river. Quiet and serene location with very little traffic of any kind. I loved the interior, especially the counters and shower surround as well as comfortable beds and quality linens. I cannot say enough about this property!
Love Rock Creek
This is our third year staying at your properties, the second at Sawmill. We absolutely love everything about the cabin. All the amenities are there, it's clean and cozy. The perfect getaway on Rock Creek. Appreciate John, the caretaker and all he does to make our stay comfortable. Looking forward to next year!
Keep up with Rock Creek, Montana
Keep up with us on social media for all our videos and photos of Rock Creek! We post images and videos of Rock Creek and Western Montana regularly on our social media accounts. Follow us!