Reviews
Reviews of the Montana Rock Creek Cabins Golden Stone and Sawmill.
Great place on Rock Creek!!
For my birthday, my awesome wife bought me and my buddy 4 nights at the SawMill Cabin for a fly fishing trip to MT. The location is quite exquisite, in a valley with a couple of other cabins around us but saw very few people while we were there. My friend who is in construction immediately started raving about how nice the cabin was and started inspecting all of the things I would never notice. He said it was exactly the kind of cabin he has been talking about building for himself back home in the NE. Everything is provided for you here, you are really in someone's house and you can tell it is cared for. Everything felt quite new, or perhaps redone, but it is all very nice. We enjoyed the hot tub after a day of fishing and barbecues every night on the new Trex deck. The landscaping and gardens were especially nice. Everything was irrigated, including the potted plants so even they are thriving. The only minus was when the wind blew, the very large cherry tomato plant fell over twice, pulling over the flower pots next to it because they were connected thru the irrigation tubes between them, so not really a minus but a privileged problem. The cherry tomatoes that fell off were delicious, thanks. Also, we found the Clinton Market on the way to the cabin was a good place to store up for food if you need it. This cabin was perfect for exploring the fishing on Rock Creek. We hit the lower part behind the Fisherman Mercantile with a guide, one day, then drove 30mins to meet the guide to float the Blackfoot, then spent the 3rd day exploring the upper Rock Creek. All were easy to get to, and the fishing was great. I've heard folks warn of Rock Creek Rd. I was not overwhelmed by it's narrowness, but I drive on a river road just like it in my town. Just go slow and prepare to take it easy or maybe even have to back up if you meet another vehicle. We did drive it to the end, and there are 2 cliff side parts that you hit a hairpin turn on, but if you stay focused behind the wheel you won't drive off the side and plummet to your death. The Hay farms and Ranch land we drove thru after Rock Creek Rd to get to Phillipsburgh were stunning. A lonnng drive, but beautiful. The Sawmill cabin at Montana Rock Creek Cabins is a true gem of a spot! I would return here in a heartbeat, Thank you!
Sawmill Cabin
We stayed the Sawmill Cabin and it was much more than we expected. The cabin was clean, nicely decorated and very comfortable. We soaked in the hot tub and was able to take in the mountain scenery. Very convenient to fishing and other day trips to explore western Montana.
Great Cabin
Wonderful location, comfy and well appointed. Arrived to a herd of bighorn sheep in the front yard and enjoyed cocktails from a lovely porch. Our host was quite welcoming and generous with fishing tips. Would happily stay there again.
Rock On!
We have stayed this cabin several years in a row and it keeps getting better. All the things a high end cabin should have, plenty of room. One of the best locations you can get for a fishing trip on Rock Creek. The porch is an unbelievable place to sit, wind down and tell fish stories while you watch the valley fall asleep. Owners are great, super helpful if need anything!
Spring Run off Fishing
A delightful visit to The Rock Creek area. Our accommodations were top notch. Proximity to the river was perfect. The fishing was great too. The wildlife in the area was amazing and the mountain scenery is breathtaking!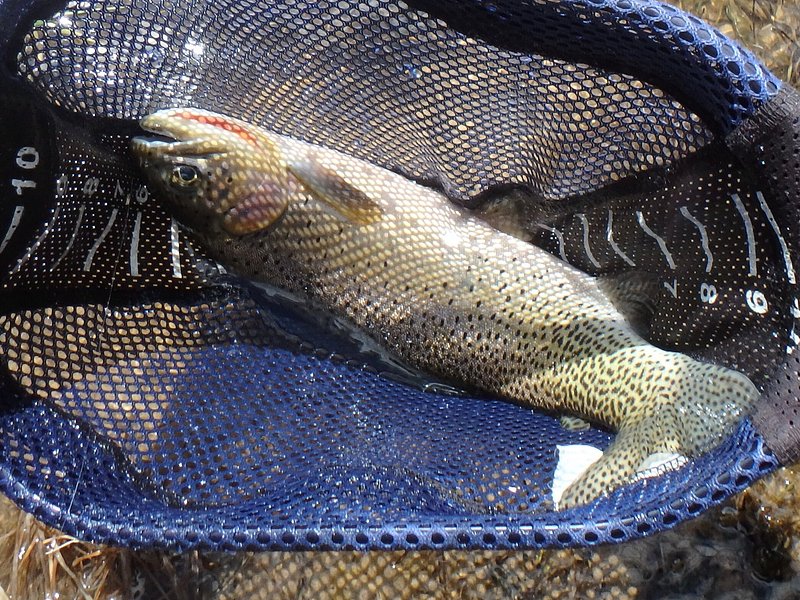 Outstanding Cabin. You can certainly feel the love the owners have for this place
This little gem right near the eight mile marker of Rock Creek is a wonderful place to stay. Very comfortable, warm, withing walking distance to Rock Creek for some fly fishing. We had a blast here with a nice large flat screen TV, 2 bedrooms, great kitchen with everything you need to make a meal. The big horn sheep were right outside. We got a lot of great pictures. I would highly reccomend this cabin for a nice getaway.
incredible !!!!
Perfect cabin to rent for a week of fishing on Rock Creek and the surrounding area. Everything is just perfect. Very comfortable beds. Great deck to sit out and have a cocktail in the evening. Cool decorations all over the cabin. I will be staying here again. The only problem is the wifi. We did not get service. Could not phone or text. We had to drive 8 miles down to the highway to get service. But otherwise everything was perfect. And it was kind of nice to be off the grid for a week
Read what guests say about the cabins, the area, and hosts. Our cabins are located near Missoula, Montana in the Rock Creek Valley. Close to fly fishing, wilderness hiking, and wildlife yet just a short drive to Missoula.